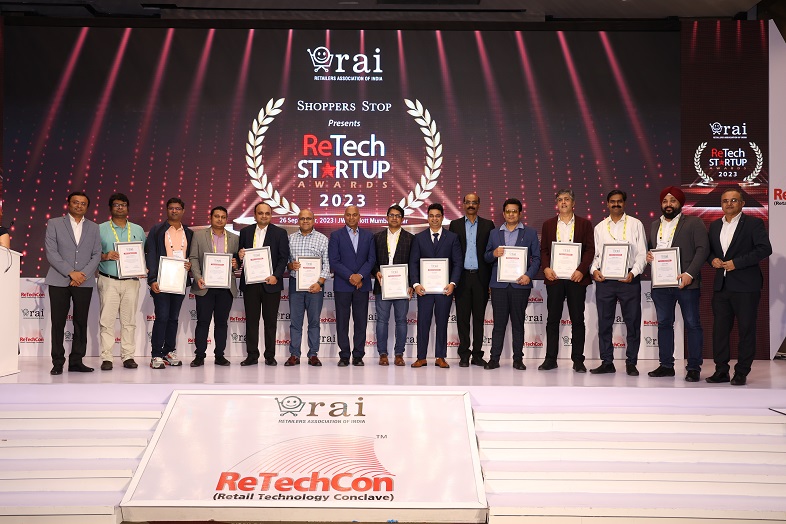 Mumbai, September 27, 2023: Eight years ago, the Retailers Association of India (RAI) introduced the ReTech Start-up Awards with the aim of acknowledging pioneering retail technology startups poised to reshape the business landscape through their innovative concepts.
Speaking about the ReTech Awards 2023, Dr. Hitesh Bhat, Director Marketing & Communications, said, Retailers Association of India (RAI) said, "Retail enterprises must accelerate their adoption of digital transformation at an unprecedented pace. Consequently, it becomes essential to acknowledge and foster technological innovators who can spearhead the development of a resilient interconnected commerce ecosystem. The ReTech Startup Awards initiative stands as the singular platform that empowers retail technology startups, affording them a formidable opportunity to showcase their offerings directly to real end-users."
The preliminary jury comprising of Vikram Idnani, President – CIO, Landmark Group, and Dharmarajan K, Chief Business Officer, Tata Uni Store evaluated the entries over set criteria and delivered a final shortlist of 10 innovative retail startups, who then presented to the grand jury comprising of Radhakrishnan K, Director, StarQuik (Tata Group) and Amit Sarda, Managing Director, Soulflower.
The three winners of the 8th edition of the ReTech Awards 2023 are:
Winner: Kiko
Kiko Live is a platform where one can discover shops around the location, and visit them virtually over an audio/video call using a patented live shopping solution. Sellers can also list and sell on ONDC and get a digital storefront. Kiko Live enables Live Quick Commerce for stores of every size and category, helping stores grow their business and deliver the orders quickly with online tracking.
1st Runner up: Intugine
Intugine is a leading real-time multimodal supply chain visibility enabler, leveraging its expertise in IoT technology to help businesses optimise & digitise their logistics operations. It has many SaaS modules and products like FTL and PTL Tracking, Container Tracking, e-POD, Control Tower, Yard Management, Smart Locks, GPS & other IoT devices. They give manufacturers, shippers, retailers, and quick commerce companies visibility over their assets across modalities on a single platform.
2nd Runner Up: Promanage
ProManage is a Marketing as a Service (MaaS) platform, trusted by many publicly traded companies, prominent brands, mainstream agencies, and local business owners.
ProManage is currently transforming over 5000 businesses by harnessing the power of hyperlocal marketing. ProManage's market intelligence, along with its strong tech partnerships with Google, Microsoft Bing, Meta, Sulekha and other prominent platforms, strengthens the hyperlocal SEO for each of your store listings.
The shortlisted retail technology startups that made it to the finals included:
1. Intugine
2. Is Going Online
3. Kiko
4. Kirana Club
5. Omniflo
6. ProManage
7. Reelo technologies Pvt. Ltd.
8. Smooth Tag Technologies Pvt. Ltd.
9. Styledotme (mirrAR)
10. TROS Online Shopping Pvt. Ltd.
11. ZipLip (Asterloop Tech Pvt. Ltd.)