Saint Louis University student Firaol Ahmed created his Ethiopian coffee company in 2022.
(St. Louis, Mo., Nov. 14, 2023) – Apex Restaurant & Market Solutions has recently partnered with Moii Coffee to serve its freshly roasted Ethiopian coffee. Apex is the largest independently owned corporate food service company based in Missouri with offices in St. Louis and Kansas City.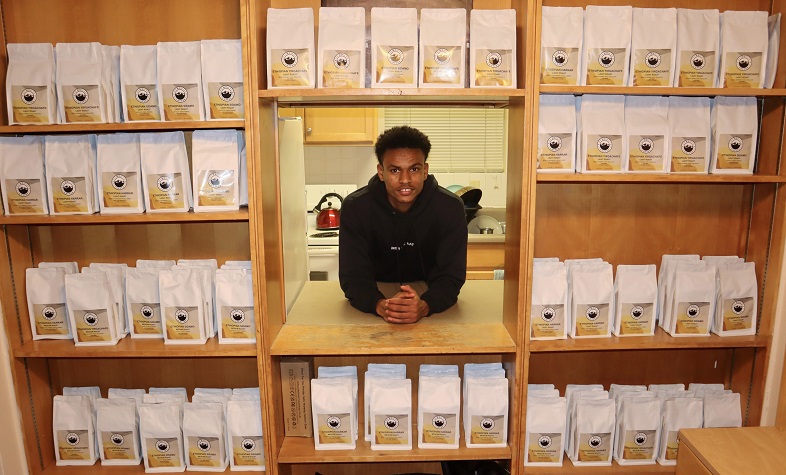 Founded in 2022 by owner and Saint Louis University sophomore Firaol Ahmed, Moii Coffee uses coffee beans from his family's farm and local farms located in Ethiopia. All the coffee is roasted at commercial roastery First Crack Coffee located at 2204 S. Vandeventer Ave. in St. Louis.
"This is a significant milestone for us. I'm thankful for the chance to partner with Apex, and witnessing their unwavering commitment to excellence is truly inspiring for our company, as we share the same dedication to delivering exceptional coffee," said Moii Coffee owner Firaol Ahmed. He added that "our coffee comes from my family's farm, and in 2021, we won the Ethiopian Cup of Excellence. This achievement reflects our family's nearly century-long history as coffee farmers."
Apex has more than 270 micro markets located in office and manufacturing facilities across Missouri including St. Louis, Kansas City, Sedalia, and Columbia. These convenient self-checkout markets offer employees a wide selection of healthy food and quality beverage options. Approximately 10% of Apex's micro markets are hybrid facilities, which feature a chef-prepared hot food component available for purchase. Apex also offers Elite Cuisine, its flagship culinary experience that handles all corporate dining and catering services.
"Firaol operates a one-person company that specializes in importing, roasting, packaging, and selling coffee from three areas of Ethiopia, including the Harrar region where he was born and raised," said Apex Restaurant & Market Solutions CEO Jim Schweppe. "Firaol's entrepreneurial success story aligns with our company's commitment to excellence in a continuously evolving work environment. We are excited to bring Moii Coffee's high-quality and exceptional tasting coffee to our clients."
For more information about Apex Restaurant & Market Solutions, call (866) 607-4400 and visit www.apexrefresh.com.